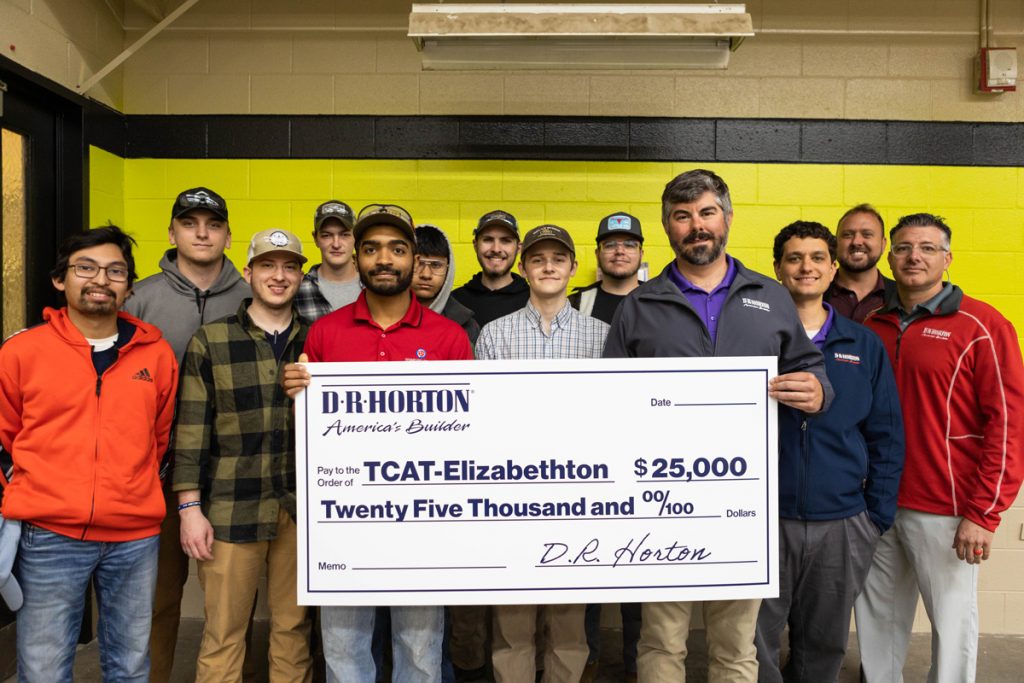 D.R. Horton Announces Scholarship and Relationship with the Tennessee Center for Applied Technology
Additional training programs will support Northeast Tennessee's growing residential construction industry.
The D.R. Horton Northeast Tennessee division announces its relationship with the Tennessee Center for Applied Technology (TCAT) to support training programs that enhance the residential construction workforce, support regional developers and contractors and promote the trades to regional high school students as a rewarding career path.
The program announcement comes amid growing community investments in Northeast Tennessee and Southwest Virginia from the nation's largest homebuilder by volume.
"We continue to see tremendous growth in the region and the need to meet the demand for more housing," says Barak Saltzman, City Manager for D.R. Horton in Knoxville and Northeast Tennessee. "At D.R. Horton, we are committed to being community partners and expect to continue to invest in relationships that provide great career opportunities for people interested in the trades."
Following its introduction into the market, Northeast Tennessee has become a strong residential market for D.R. Horton. By the end of 2021, D.R. Horton had closed on more than 250 homes in the region and anticipates another 500 closings over the next 12 months. The economic impact of this investment has resulted in more than $100 million in East Tennessee in 2022 with plans for D.R. Horton to increase its investment to an estimated $300 million in 2023, and that is just the beginning of the company's vision for the region.
"Our relationship with D.R. Horton is incredibly important to the career development and training programs we see at TCAT," says David Hicks, President of TCAT, Elizabethton. "Industry relationships such as this provide valuable mentorship and future employment opportunities for current and graduating students."
Today's announcement will support TCAT's existing operations and potential scholarships to the program from D.R. Horton, which may include financial aid for students seeking to learn skills for the residential construction trade. The nation, and specifically regions such as Northeast Tennessee, are in dire need of skilled trades people and support for contracting companies to meet the growing need for housing.
The program intends to offer daytime and evening classes. To learn more please contact:
Barak Saltzman
City Manager at D.R. Horton
BSaltzman@drhorton.com, (865) 214-0007
David Hicks
President, Tennessee Centers for Applied Technology, Elizabethton
david.hicks@tcatelizabethton.edu, 423-543-0070
###
Sync Space Entrepreneur Center is a 501(c)3 and the Launch Tennessee partner for northeast Tennessee. Sync Space programs range from early idea validation and workshops to accelerator programs uniquely focused on support for local and recruited startups considering northeast Tennessee as a place to grow or expand their business. Sync Space programming aligns startups with key partners and industries that offer mentorship, opportunities for investment, and pilot program opportunities. To learn more about Sync Space Entrepreneur Center, visit: https://syncspace.org
Founded in 1978 and headquartered in Arlington, Texas, D.R. Horton has operations in 109 markets in 33 states in the North, East, Southeast, South Central, Southwest and Northwest regions of the United States. D.R. Horton has been the largest builder in the United States by volume since 2002. For over 40 years, D.R. Horton has consistently delivered top-quality new homes to homebuyers across the nation. The livable floor plans, energy-efficient features and robust new home warranty demonstrate our commitment to excellence in construction. D.R. Horton exhibits leadership in residential development through design innovation, superior craftsmanship and responsiveness to the needs of its customers. The simple vision that began over 40 years ago represents years of value and security when you choose America's Builder to make your dreams come true. For more information, visit our website at www.drhorton.com/tennessee/knoxville/. D.R. Horton is an equal housing opportunity builder.